Top 10 Rated Virginia Beach Wedding Ministers & Officiants
Get Hitched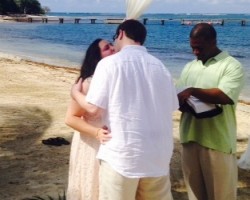 There are many different options for Virginia Beach wedding officiants but many of them come with conditions that couples either cannot or don't want to meet. Get Hitched is the perfect alternative for couples that want a truly informal event that still has all of the meaning of a more traditional ceremony. This service offers customers a civil ceremony that can be carried out on shorter notice, are cheaper and can be organized as a surprise for your family and friends.
A Blessing From Above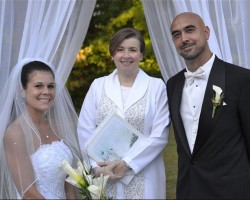 Rev. Launa Byrd and Rev. Patrick Byrd are both ordained through the Church of Christ and also have an active affiliation with a non-denominational church in Virginia Beach. They always ensure that couples know exactly how the ceremony will be and how the legal process will be overseen. Knowing that your ceremony is in the hands of these extremely friendly and caring experts will give you complete peace of mind when it comes to your wedding day. Reviews from previous couples always mention how these dedicated officiants do everything to make your day extra special.
Rev. Dawn Kenny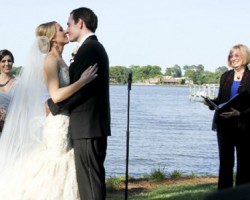 If you are searching for a wedding officiant in Virginia Beach, VA that is completely flexible with the style of the ceremony and has some of the most affordable fees then you should look no further than Rev. Dawn Kenny. This non-denominational minister believes that every couple should have a ceremony that is exactly what they have always dreamed of having. That is why she listens to the couple and adjusts everything to be formal, casual, joyful and to include any traditions that the couple holds.
VB Marriage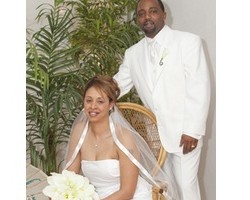 Since 2000, Frankee Love has been the leading officiant for VB Marriage and she has now performed countless weddings. She offers couples in Virginia Beach different packages ranging from a more traditional service to one that only includes the bride and groom. VB Marriage is the perfect option for a couple that doesn't want to worry about their ceremony and with this service you can guarantee that with Frankee Love as your licensed officiant the entire event will be beautiful and memorable.
The Civil Servant
Michael Kuzma is the marriage commissioner and wedding officiant for The Civil Servant. He provides a free consultation and planning session that will show you just how affordable his services are and all of the extras that he includes. Michael is there to guide couples through every stage of the process and is able to tailor his packages to fit your exact needs. Contacting this wedding minister directly will have you on your way to having one of the best in Virginia.