Top 10 Rated Milwaukee Wedding Ministers & Officiants
My Best Ceremony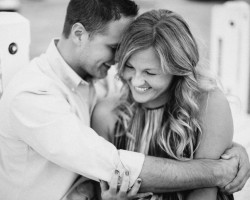 From destination to vow renewals there is nothing that Reverend Marcia Boyer at My Best Ceremony won't be able to help you with when it comes to weddings. She has brought together a team of Milwaukee wedding officiants that offers couples of the city one of the best selections of professionals available. Knowing that you can call on the minister that suits your needs, style and personalities, means you won't need to worry about your ceremony as it is guaranteed to be perfect.
Lets Get Married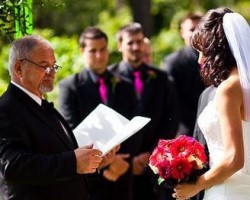 While Let's Get Married is made up of a team of officiants, couples getting married in Milwaukee will have access to the services of Reverend Donny. One of the best aspects of having this officiant perform your ceremony is that he is fully against any minister telling the couple exactly how the wedding should go. Instead Rev. Donny works closely with each couple to guarantee the ceremony is as unique as they are. He has performed ceremonies from different traditions and they are always beautiful.
Rev. Christine Weidner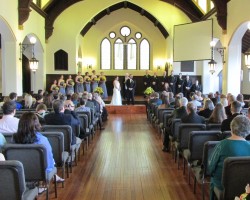 With credentials from multiple churches and spiritual organizations, Rev. Christine Weidner is in the perfect position to offer couples from Milwaukee exactly what they want on their big day. It is clear from every aspect of her ceremonies that Christine loves what she does and feels that it is an honor to work alongside couples to create their perfect day. This is not only promised by Christine herself but is reflected in all of the reviews of previous couples she has officiated for.
Marry Me LLC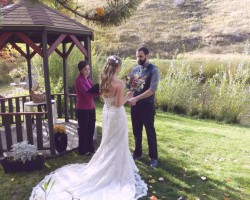 Jessica Pike founded Marry Me, LLC in 2012 as she saw there wasn't a service available to couples in Milwaukee that was truly flexible and open to all. From the reviews that have been left by previous couples, Jessica is excellent at providing complete peace of mind while also making sure the entire day goes smoothly. In addition to being one of the best in the state, this licensed wedding minister provides couples with a clear pricing system, which makes it even easier to budget for Jessica's services.
Heartfelt Ministries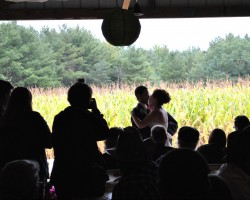 Why settle for a single wedding officiant in Milwaukee, WI when you can have access to a trio each guaranteed to provide the highest quality of services? Rev. Kelly Hunt, Rev. Melanie Miller and Rev. Jean Kohloff have formed their service so they can provide couples throughout Wisconsin with the ceremony of their dreams. Heartfelt Ministries is a completely open service that never discriminates based on beliefs or sexual orientation. Instead they believe that every couple deserves the very best from each of their officiants.