Top 10 Rated Raleigh Wedding Cake Bakeries
Five County Cakes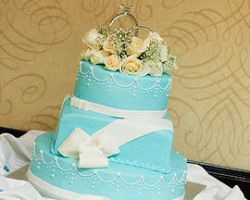 Since discovering her passion in 2008 for decorating and making beautiful cakes, the owner of Five County Cakes has created a booming business dedicated to serving the needs of clients to the fullest. Each of the freshly baked cakes made by this talented baker are designed in conjunction with the clients, which always guarantees success. For their highly unique services and dedication to customer care, this company is very busy throughout the year making wedding cakes, birthday cakes and everything in between.
Cakes by Frances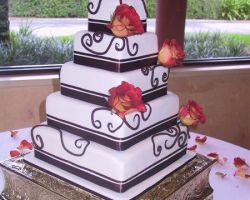 Cakes by Frances is a small boutique style bakery that specializes in making custom cakes for weddings and special occasions in North Carolina. This master baker works closely with clients in order to achieve the exact style of cake they would like while using their favorite flavors as the base of her creations. This baker only takes on a set number of custom cakes per week so that she can give each one her undivided attention and care and in turn providing the highest quality.
Sweet Traditions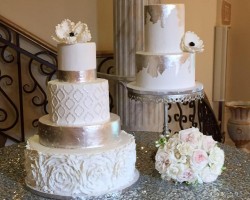 For wedding cakes in Raleigh, NC, many local couples turn to the mouth watering confections of the talented bakers and designers at Sweet Traditions. This company has a track record of making gorgeous cakes using top quality ingredients and design techniques. The quality of the work produced by this company is a given as is the uniqueness, but they also go above and beyond to help the couple choose each aspect of their cake, suggesting which ones are inoffensive and would be enjoyed by all.
Bitty Cakes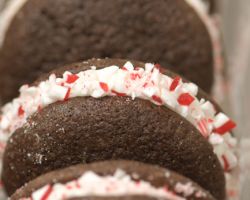 What sets Bitty Cakes apart from the competition is their dedication to using the finest gourmet and natural ingredients to make their desserts and treats. This not only means the flavor is rich and enhances, but you are enjoying real food, not artificial flavoring. Kim, the owner and lifelong baker, specializes in making cupcakes, pies, and various other desserts for any occasion. You can add a formal spin to these easy-to-serve desserts for your wedding or make them unique smaller versions of a baby shower cake.
The Matthews House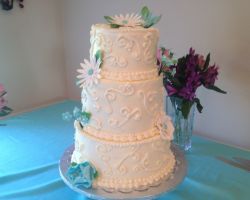 The Matthews House is one of the premier wedding venues in Raleigh, but it also houses one of the most talented cake bakeries in the city as well. In the Patisserie, the dessert company located at this venue, you will find confections made with only the very best ingredients to achieve the richest flavors. Ordering a cake from this team of professional bakers means that it will not only taste great but also be a beautiful centerpiece for your wedding reception.
Once in a Blue Moon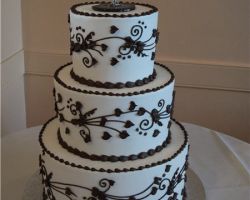 Searching Raleigh for wedding cakes can be exhausting when there are so many high-quality options to choose from, which is why much of the business is done by referral. Once in a Blue Moon is a bakery dedicated to providing the very best service for their customers at the most affordable prices, which has led them to be referred by every client they have had. Whether you want something completely unique or would like something traditional with a custom cake topper, this company can make your cake dreams come to life.
Sweet Cakes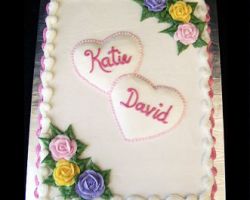 Choosing a custom cake for your wedding day means choosing not only the flavors that you love, but having a dessert that matches the style of your event and suits your personalities. Sweet Cakes has made countless wedding cakes for couples with one-of-a-kind designs. Each of their cakes is decorated flawlessly while the cake itself is always melt-in-your-mouth delicious. Whether you want flowers involved in the design, certain colors, cake toppers or anything else, this company can make it happen and make it happen beautifully.