Top 10 Rated Charleston Wedding Ministers & Officiants
LeAnn Gardner
LeAnn Gardner has been a wedding minister in the area for many years. She has worked with couples that would like a small, intimate and short ceremony as well as those that have planned larger, formal affairs. This expert's flexibility is one of the things that makes her the best at what she does. She has a passion for couples and a love for creating customized and meaningful scripts to mark the occasion. LeAnn even offers coaching for couples that would like to discuss their relationship leading up to the ceremony.
With This Kiss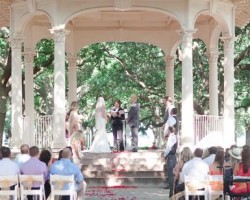 With A Kiss is owned and operated by South Carolina native, Chrissy. This professional has been working in the service industry for the last 17 years and in that time has come to specifically offer event planning and wedding officiating too. The comprehensive services of this expert mean that you will have a beautiful and personalized ceremony and will also be able to keep the entire theme of the event fluid with the coordination services. Simply reading the reviews will show that you will love working with this company.
Christy Loftin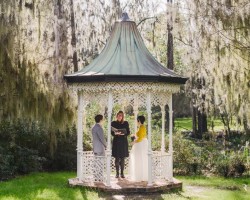 Christy Loftin offers many of the wedding services you need to have a successful ceremony and celebration. This professional is an event designer, coordinator and wedding officiant in Charleston, SC. You can hire Christy for everything or you can just have her as the one that performs the ceremony. Christy has helped her clients join together in marriage for over 15 years. In this time she has performed a range of custom ceremonies that suit the style of the couple and their event.
My Weddings Your Way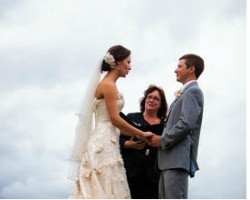 There are plenty of Charleston wedding officiants to choose from, but that doesn't mean that they are all as professional or as skilled at their work as Melanie Murray from My Weddings Your Way. This expert makes sure you are in total control of the ceremony while still having her advice and guidance throughout the planning process. You will dictate the exact style, length and details of the script and she will accommodate perfectly. This always results in couples having the most personal and memorable wedding day possible.
Brenda M. Owen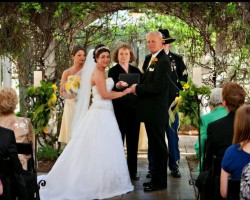 Brenda M. Owen is a licensed Notary Public for South Carolina, which means that she is able to perform official wedding ceremonies throughout the state. Brenda is professional and personable with all of her clients. This allows her the chance to customize the ceremony to the couple and make sure there is the right injection of humor and romance to suit the couple's style. You will love working with such a flexible and knowledgeable wedding officiant on your script and on the actual day.