Top 10 Rated Fort Worth Wedding Cake Bakeries
Miss G's House of Pies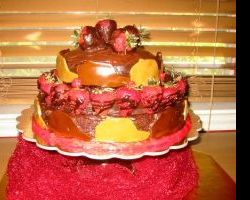 Miss G's House of Pies is not only a delicious pie shop but also a tasty cake bakery. All of their baked goods and treats are of the melt in your mouth quality. With over 34 years of experience, the head baker has perfected the techniques and artistry needed to make beautiful custom cakes from scratch. Upon request, this professional bakery will make a unique cake for your big day using a flavor combination that will blow you away and decorations that will have everyone talking well after the event.
Haute Cakery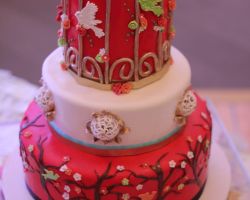 There are very few places in Texas where couples can find custom cakes of this caliber for their weddings. Haute Cakery is known for using only the very best ingredients to make their confectionary masterpieces from scratch. This company hand crafts every piece that goes into creating one of their famous cakes. Everything they use to create these confections is edible and is always of the highest quality. If you would like to serve a delicious and beautiful cake at your wedding, then this company can make something for you.
CC's Cupcake Heaven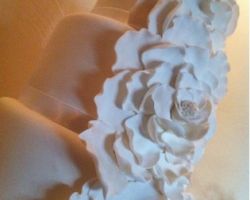 When you admire the work of CC's Cupcake Heaven, it seems that there is nothing this bakery cannot do. They make elegant wedding cakes as well as character themed birthday cakes and delicious baby shower cakes. Their unique creations can be done using any flavor combination, interesting shapes and one-of-a-kind cake toppers. Your dream custom cake will come to life when this company makes it. Their attention to detail and need for perfection make them the perfect choice to make you a complicated and luxurious wedding cake.
Sweet Memories Cakes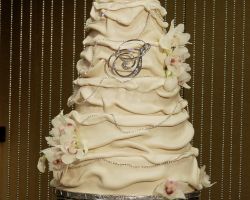 Sweet Memories Cakes is known for having a plethora of interesting cake flavors and combinations for their confectionary creations. This company uses top quality ingredients to make their cakes, which always means they will be deliciously flavored and artistically decorated. Your wedding cake will be at the center of the reception so it should be beautiful and creative while also staying true to your personal style and the style of the event. Choose this company and have an unforgettable cake every time.
The Original Cupcakery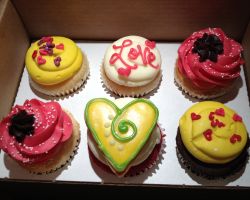 Many couples are now opting to serve delicate cupcakes at their wedding reception for a variety of reasons. They are already baked into one serving so there is no messy cake cutting, because of their small size they are always moist with the perfect cake to frosting ratio, and you can have more flavors and combinations than with a single cake. The Original Cupcakery specializes in making unique cupcakes for special events of all kinds including birthdays, reunions and weddings.
Sinsational Cakes Bakery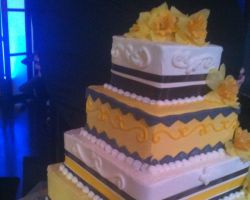 You will see and taste sheer decadence when you have Sinsational Cake Bakery make your Fort Worth wedding cake. This company is the best in the area at providing signature cakes for local weddings and events that will melt in your mouth. This company not only offers delicious cakes, but ones that are extravagantly decorated and at affordable prices. There is little this cake company cannot do with their expert talents, meaning they always create unforgettable custom cakes to act as the centerpiece for your wedding reception.
Confections in Cake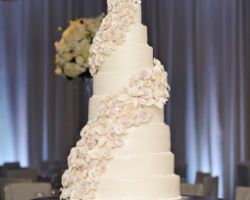 If your wedding cake is something you are looking forward to almost as much as the ceremony itself, then choosing the right cake bakery is a must. Confections in Cake is one of the most well-established and full service bakeries for wedding cakes in Fort Worth, TX. This company's talent has been recognized by some of the biggest wedding publications in the country for their custom cakes. They not only use interesting and delicious flavors but the creativity they use to decorate is simply incomparable.