Top 10 Rated Philadelphia Wedding Dresses and Gown Designers
Mill Crest Vintage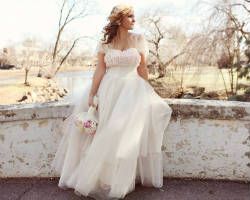 Filled with 100% genuine vintage bridal designs, Mill Crest Vintage has been growing their collection since 1985. Paula and Erica's impressive boutique screams individualism from all their bridal wear pieces. Mill Crest Vintage adds excitement and mystique for brides looking to truly express their personal sense of self. With style for all shapes and sizes, these timeless gowns speak for themselves. Call to schedule your personalized styling appointment with some of the most knowledgeable ladies in wedding vintage fashion.
Camille La Vie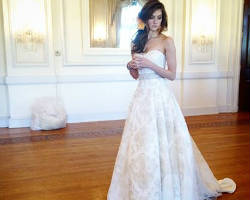 Wear the style of your dreams, for your wedding day, Camille La Vie has the sassiest and trendy forms in bridal gowns of Philadelphia, today. They are such a debonair that you may see magic in every way of creating them. Camille La Vie is hip and fresh to suit your fervor. A premier dressmaker at the heart of the city, Camille La Vie is found full of superb creations from bride to mother of the bride as well as groom, flower girls and the bridesmaids. Get quintessential pieces for your wedding. This brilliant shop is a product of innovativeness in elegant fashion and completion of the look you want.
Bijou Bridal & Special Occasion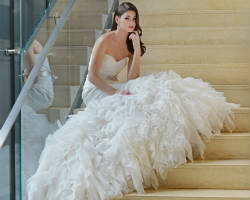 As the city's favorite bridal retailer, Bijou Bridal & Special Occasion store exudes in designs to lavish and love forever. The shop only provides something extraordinaire for the whole entourage on the big day. From bridesmaids gowns, mother's evening dresses, flower girls dresses to the wedding dress, Bijou Bridal & Special Occasion is a world class Pennsylvania shop to build bridal dream's to be a reality. Have a packed closet full of this season's modish trends in wedding gowns. They are crafted in cuts, designs, texture and patterns just for the one evening you wouldn't miss. Bijou Bridal & Special Occasion coats each gown and embroidered every bridal piece with today's most wanted decorations for weddings dresses.
Elizabeth Johns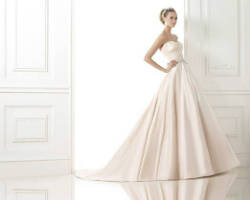 Elizabeth Johns dedicates herself to serving the softest fabric and rarest cuts for the most beautiful brides of the century. Only the vital adornments are added and used on these dresses. Know what's the best thing about her store? Elizabeth Johns is a place where magical things happen to wedding dresses. The most creative shop is able to offer its clients a wedding opportunity to our memories in bridal gowns sold at Philadelphia. A lot of reviews has already accounted to the shop's famous work of arts as hip and modern Philadelphia wedding dresses. At the store, see a group of expert couturier glad to assist your every need in nothing but what else… weddings and gowns!
The Little Shop of Dresses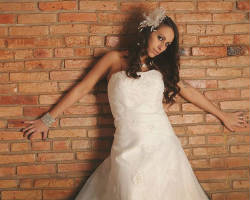 Say "I Dos" while wearing the town's best wedding dresses, at The Little Shop of Dresses. The bridal salon of our times, brides received a seasonal selection of bodice, ballroom gowns, peplums, bodice, patterns, skirts, ornaments and laces. Customized versions can be requested, too. The Little Shop of Dresses has the rarest amenities in wedding designs, trendy and modern to match your moods on the big day. Your closet deserves the most beautiful set of bridal gowns from cocktail dresses, bridesmaid gowns, pre-ball gowns, flower girls gowns and wedding dresses. The Little Shop of Dresses is an expert wedding vendor as a dressmaker. The Little Shop of Dresses is a wedding connoisseur to see today!
L&H Bridal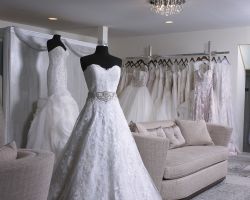 Providing a once in a lifetime full service bridal experience for over 45 years, L&H Bridal special occasion boutique offers an extensive selection of fashion forward designer gowns from around the world. Their fresh collection of bridal, evening gowns, bridesmaid dresses, and tuxedo is a great reason to bring the whole family for your fittings. Specializing in custom alterations, you can be rest assured that your gown will be the perfect fit. If you are looking for a relaxing and customer service oriented wedding dress shopping experience, schedule an appointment today with L&H Bridal's skilled sales staff.
David's Bridal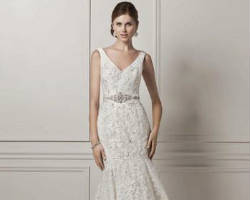 See a bride take slow steps down the aisle wearing a classic collection of wedding dresses at Philadelphia. The designer David's Bridal is very popular for rustic and chic original designs to match something borrowed and blue in weddings. These dresses seem to be everlasting and elegant in everyway for the bride, which way she moves or wherever she goes. Let every girls envy you on your wedding day, to look stunning, choose the David's Bridal, it is only earth's wonderful creation as one store with tons of ideas. From a sexy cocktail gown to the more extravagant picks on Philadelphia wedding dresses, David's Bridal wants your choice!