Top 10 Rated Scottsdale Wedding Venues, Reception and Banquet Halls
The Westin Kierland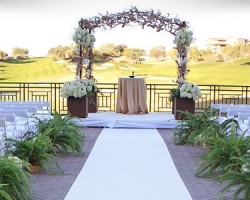 One of the most beautiful garden wedding venues in Scottsdale, The Westin Kierland Resort and spa promises an unforgettable experience. The romantic outdoor courtyards of this resort are perfect for hosting a Quinceanera as well as a garden wedding. For lovers of indoor reception parties, this venue has elegant reception halls with adjoining patio. The ballroom's hanging chandeliers create a romantic and elegant atmosphere. Clients benefit from the expertise of an in-house professional event planner and a team of culinary masters.
Troon North Golf Club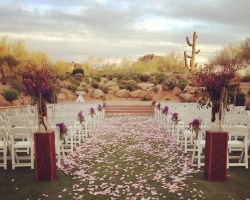 Sandwiched between panoramic mountains and a flowering landscape, the Troon North Golf Course is one of the most beautiful Scottsdale wedding venues. The romantic ambiance of this elegantly decorated venue is the perfect setting for any wedding. To get clients excited about their big day, Troon North Golf Club offers guided tours of the venue before the special day. The Golf Club offers personalized services aimed at giving clients an unforgettable experience. Based on the club's many positive reviews, its services are affordable and of high quality.
The Clayton on the Park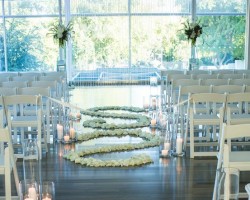 Downtown Scottsdale is home to the best wedding venue in Arizona according to the Arizona Foothills Magazine. A modern wedding venue with chic decor, The Clayton on the Park is a one of a kind wedding venue conveniently located a few minutes from the airport and the freeway. Thanks to its location and sophisticated design, The Clayton on the Park is a prime location for hosting a wide range of events from corporate events to weddings. To make things more enticing, the hotel provides in-house catering. The hotels 6,000 square feet hail is a refreshing alternative to the more traditional banquet halls. No wedding chapel can compare to The Clayton on the Park.
Gainey Suites Hotel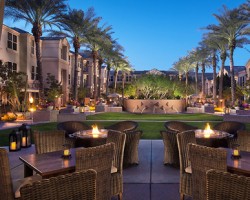 The Gainey Suites Hotel is a small venue that provides an intimate and charming atmosphere for hosting private wedding ceremonies. The hotel boasts of both outdoor and indoor wedding venues. As such, it is also one of the most intimate party venues in Scottsdale. This local charming and unique venue has palm-lined terrace and gardens for hosting intimate garden weddings. Gainey Suites Hotel provides its services at competitive prices and has an in-house catering expert to cater to client's needs.
The Scottsdale Plaza Resort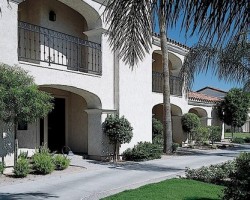 The Scottsdale Plaza Resort is an oasis of peace, elegance, and tranquility located right at the heart of the concrete jungle that is the Scottsdale Old Town. An elegant Spanish Mediterranean Lobby ushers guests into this urban oasis. Boasting of well-manicured grounds filled with desert flowers, palm trees, and fragrant seasonal plants, this resort is one of the most beautiful wedding venues in Scottsdale, AZ. For optimal relaxation, the resort features six distinct rooms that epitomize luxury and intimate privacy.